HS2 Works Notification: Notice of overnight road closure, Radstone Road, Radstone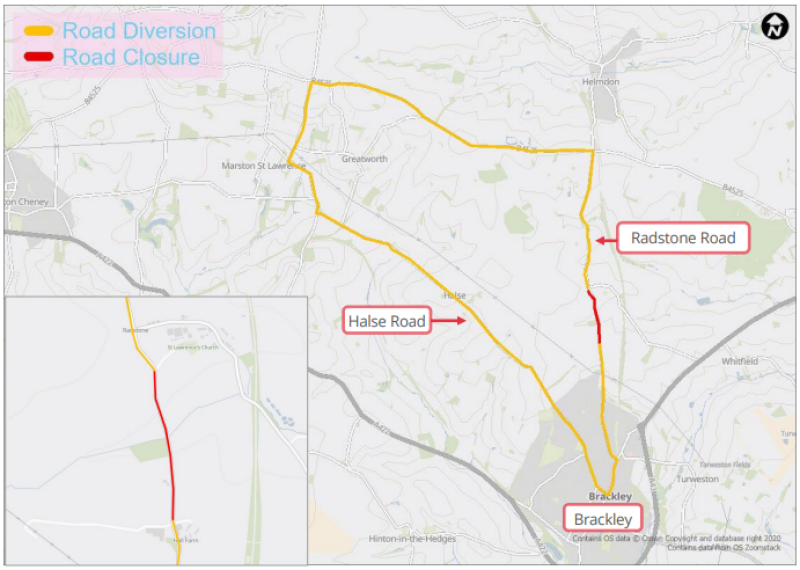 HS2 Works Notification: Notice of overnight road closure, Radstone Road, Radstone
What are we doing?
In early June, we will be carrying out some overnight topographical surveys of Radstone Road, sometimes known as Brackley Road. These surveys will help us to finalise the design of the new railway. A topographical survey is an exercise undertaken by land surveyors using highly specialised survey equipment. These surveys provide detailed maps of land, identifying both natural and man-made features within a specified area.
To carry out these surveys safely and effectively, we will need to put in place a road closure with signed diversions. This is for reasons of safety, as our staff will be working directly in the carriageway.
When will these works take place?
A section of Radstone Road will be closed overnight between 8.30pm and 5.30am on Monday 5 June to Tuesday 6 June 2023.
Access will be maintained for emergency services.
Where will the works take place?
The map below, shows the closure area on Radstone Road and the local diversion via Halse Road.
Access to Radstone will be from the B4525 and the A43.
OFFICIAL NOTIFICATION NOTICE: CLICK HERE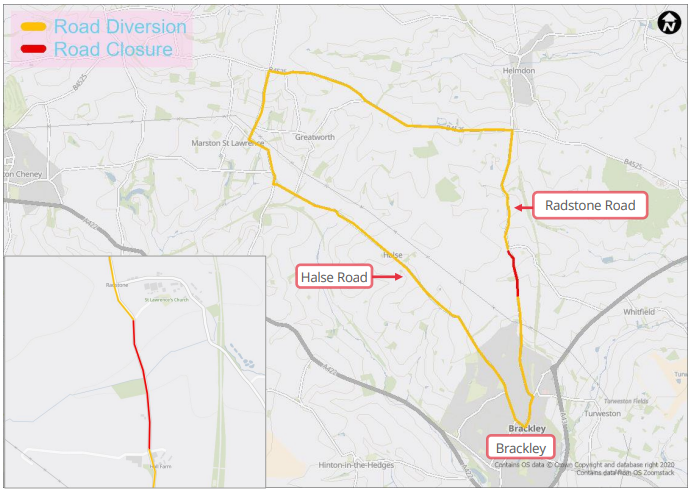 Contact Us
Contact our HS2 Helpdesk team all day, every day of the year on:
Freephone: 08081 434 434
Minicom: 08081 456 472
Email: hs2enquiries@hs2.org.uk
Website: www.hs2.org.uk
To keep up to date with what is happening in your local area, visit: www.hs2inyourarea.co.uk