Brackley Christmas Tractor Run 2022 - £3,281.00 raised for the Farm Safety Foundation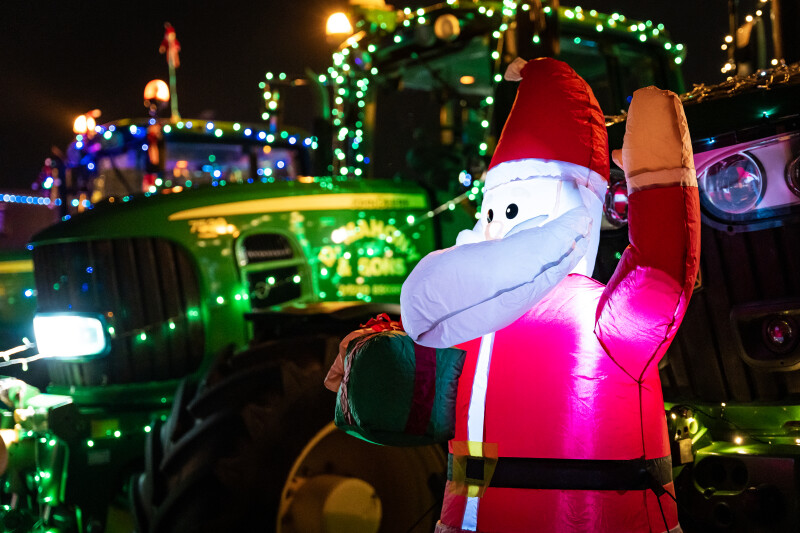 On Sunday 11 December, our annual Christmas Tractor Run took place in and around the town. For the second year running, local farmers and tractor drivers came together to put on a spectacular festive convoy, all with the aim to raise money for the Farm Safety Foundation – Yellow Wellies.
The route started from Sainsbury's car park at 6pm, then proceeded to go up Poppyfields Way, past Egerton Hall, down Humphries Drive, onto the Banbury Road, past the Town Hall and back up the High Street. A total of 64 tractors and vehicles were counted on the night.
Since Sunday evening, we are overjoyed to announce that the total raised has reached an outstanding £3,281.00. Thank you to everyone who donated and showed tremendous generosity to this much loved charity event. In 2021, we raised a total of £2,135.00, so £1,146.00 more has been donated than last year's total. The charity itself is small foundation who work closely with Young Farmers Clubs, HSE, the Farm Safety Partnerships and a range of farming organisations to help raise awareness of farm safety among young farmers. Ultimately, their goal is to prepare the next generation of farmers to be responsible, confident and safe so any life changing accidents are avoided within the farming community, whilst focusing also on the mental and physical wellbeing of farmers.
Thank you to our council staff and councillors - Brackley Town Mayor - Councillor Paul Wiltshire, Fiona Baker, Jeremy Gladwin, Elaine Wiltshire, Luke Young, Bernie Tiller and Kate Nash who all helped to shake donation buckets at different spots around the route which bought in an extra £1,485.21 to the total JustGiving figure.
Northants Police Rural Crime Team attended prior to the event and engaged with the farming community on the car park before the route set off, whilst giving out an astonishing 80 thermo mugs. A further huge thanks to the local 4x4 volunteer team who assisted Brackley Town Council's ground team with the rolling road closure ensuring a smooth operation as the tractors made their way slowly through the town and to AKA Events Brackley who provided tea/coffee and snacks to the drivers before they set off.
And lastly, thank you to all residents - temperatures were incredibly cold, however that did not stop hundreds of you lining the streets to wave as the tractors drove past.
Here at the council, we thoroughly enjoy putting this event on for the town, whilst raising money for a small but worthwhile charity. We can confirm it will firmly be on the events calendar in 2023!
If you would still like to make a donation to the Brackley Christmas Tractor Run 2022, please visit: https://www.justgiving.com/fundraising/brackley-town-council