Notice of full weekend road closure, A422, Westbury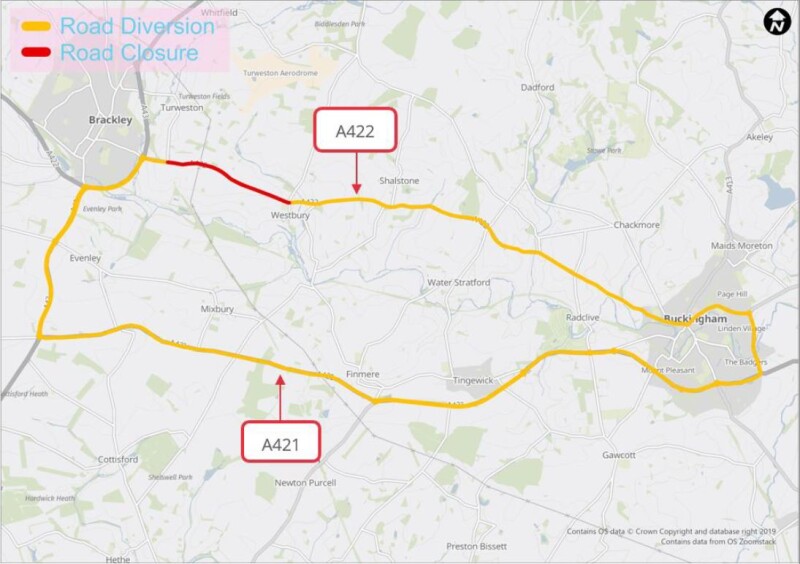 What are we doing?
Throughout 2023, we have been carrying out preparatory works for the temporary diversion of the A422. This temporary diversion will enable us to keep the A422 open while we begin construction on the new permanent realignment and overbridge, that will eventually carry traffic over the high-speed rail network.
We are now ready to complete the tie in works that will join the new temporary road and roundabout to the existing A422. These works will include the installation of lighting, signage, resurfacing and white lining. Once these works are completed, the local authority will carry out a road safety audit before the temporary road diversion and bridge are open to the public.
For safety reasons, these works and the road safety audit will require a full 24-hour road closure.
There will also be traffic management for two weeks along the A422. This traffic management will allow our teams to finalise utility connections to prepare for the tie in works at the end of September.
When will these works take place?
A section of the A422 will be fully closed, 24 hours a day, from 8pm Friday 22nd September to 6am Monday 25th September 2023.
Our teams have ensured these works will not clash with our works along the A43
As a contingency, should there be delays to our works, this full weekend closure will take place from 8pm Friday 29th September to 6am Monday 2nd October.
View the full notice document here.
Where will the works take place?
The map above, shows the approximate closure area on the A422, between Turweston and Westbury, that will be in place.
Contact us
Contact the HS2 Helpdesk team all day, every day of the year on: 08081 434 434
Email: hs2enquiries@hs2.org.uk